Follow The Cobble Stone Road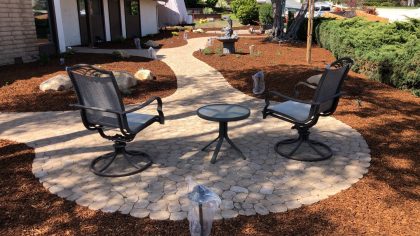 Our most recently completed project left no landscape untouched! With a sandstone hued cobble pathway winding around the home it has a fun and whimsical vibe to the nature scene. Splashes of yelllow Coleonemas, red Salvias, and purple Ceanothaus add vibrant pops of color against the earth toned fir bark. Landscape lighting added an imporant safety feature along the walking path to illuminate the area and add an inviting feel to the night time landscape. Designated seating areas allow the home owners and their guests to enjoy every inch of their landscape during all parts of the day and night. We cannot wait to see what the space will look like over the next couple seasons while the plant grow and mature. These customers are ecstatic about their new path home.
---

San Luis Obispo Low Maintenance Planting Area Photos
---

If you are looking for a professional San Luis Obispo landscaper then contact Dan's Landscaping Company at 805-550-5488 or complete our online request form.