San Luis Obispo Irrigation System Installation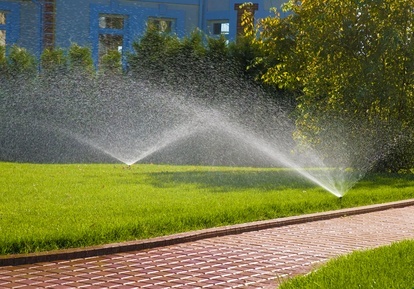 Dan's Landscaping Company is a professional San Luis Obispo Irrigation System Installation Company in California. We offer superior landscaping services and products for both residential and commercial at an affordable investment, without sacrificing quality and design. Our experienced team has over a decade of industry level experience. We can tackle any landscaping project large or small.
A professionally installed sprinkler system will provide water for your lawn or plants on a schedule. There are two types of watering systems: overhead sprinklers and drip irrigation. Traditional sprinklers are widely used for lawns, while drip lines work well for garden beds. If you are especially concerned with water usage a drip system is a good option.
Experience San Luis Obispo Irrigation System Installation
Careful planning & strategy goes into every individual sprinkler head selection and installation. It guarantees the most comprehensive yard coverage possible, spraying water where you need it and in the proper amount. This minimizes water waste and concentrates moisture directly on all targeted plant life.
The type of San Luis Obispo Irrigation System Installation to have done, you should consider which areas of your yard that you will need to water. Watering needs are different for grass than they are for shrubs or trees. If you have existing landscaping, new sprinklers can be installed to support what is already there. If you are planning on installing new plants it is helpful to know the location of certain plant types so that your sprinkler installer can get the right heads or emitters in the proper place.
Invest In Your San Luis Obispo Home
It is important to find experienced, professional contractors who can both design and implement an irrigation system that is perfect for your business or home. This is why property owners choose our San Luis Obispo landscapers. They know that our company will do the job fast and do it right the first time, every time.
Every renovation or you make in your home or business is a major investment. Having a fully functional durable sprinkler your system in your yard automatically increases the value of your property and make it more attractive to potential buyers. There are even greater benefits for business owners. Below are some advantages of owning a home or business irrigation system for your property.
Irrigation systems last for several year with minimal maintenance
Your investment dollars are exponentially added to your property value
Reduces time needed for yard care
Custom designed to fit any landscape
Contributes to healthy landscape growth
Newer more efficient system save 30% or more in water costs
The Dan's Landscaping Company Guarantee
AT Dan's Landscaping Company, every member of our team works very hard to exceed all expectations from each client we work with. We take pride in every component of our company from design, to deliver, and installation, and final finish. It is our goal for you to enjoy your new landscaping, hardscaping, water features, or irrigation system long after the job is done.
Recent Articles
4 Reasons to Install an Irrigation System in Your Lawn

Many San Luis Obispo homeowners are looking for ways to make their lawn care and landscaping more convenient. Irrigation systems are a great way to make your lawn maintenance less laborious and time-consuming. If installing an irrigation system isn't appealing to you initially, consider the following benefits of sprinkler systems. Advantages of Installing a…

Read More

If you are looking for professional San Luis Obispo Irrigation System Installation then contact Dan's Landscaping Company at 805-550-5488 or complete our online request form.