Custom San Luis Obispo Retaining Wall Installation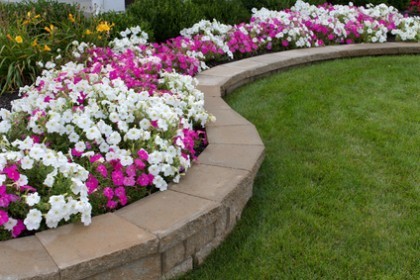 Our San Luis Obispo landscapers are the premier landscaping company in Central Coast. With our certified of designers and contractors, we provide a broad range of services for homeowners and business owners across San Luis Obispo and the surrounding Central Coast area. With Dan's Landscaping Company you can get the results you're looking for and turn that landscaping vision into a reality! We specialize in both commercial and residential hardscapes and have the experience and flexibility to tackle any project.
Durable San Luis Obispo Retaining Wall Installation
Retaining walls are stone structures which are designed to contain landscape that uneven or sloping. In most the cases the landscape is sculptured to create a design and retaining walls are used as a decorative reinforcement to keep the landscape intact with no runoff. San Luis Obispo Retaining Wall Installation takes a great deal of strategic planning & design. It must be able to withstand ongoing soil pressure while at the same time become a matching featured attraction to your landscape and architecture.
It is vital, therefore, to choose a San Luis Obispo Retaining Wall Installation company that you trust to build a durable retaining wall that will last you for years to come. The certified team at Dan's Landscaping Company will help you build your next project from initial design to final finish. We work closely with each client and guide you through every step. Your satisfaction is our guarantee!
Your Seating Wall Contractor
Need a place for all your guests to sit without pulling out all the chairs? Seating walls are a popular alternative to traditional seating. They often provide sturdy seating for several guests and instantly add to the appeal of your entire patio or hardscape. What makes seating wall construction enjoyable is the endless array of styles that are possible to match your current landscaping design. Seating walls can be constructed from various materials which are easy to maintain and clean. Entertain your guests through any season with quality Seating Walls from Dan's Landscaping Company
Material Choices
Retaining and seat walls can be constructed from standard block and covered in stucco or veneer, brick or completely from all natural stone. The veneer you select for a block seat wall can also be built from natural stone or from an artificial material. You should choose materials for your seat wall that match your home's design and your entire landscape. It is also important to invest in walls that will resist the sun and the weather in San Luis Obispo.
Flexible Retaining & Seating Wall Features
One of the greatest features of retaining and seat walls is their flexibility. You don't have to install a long, straight wall if it doesn't fit with your yard. A semicircular or other shaped wall can be a very attractive feature, especially if you set it up around a pre-existing feature such as a fire pit. A semicircular arrangement also allows you to create a warmer environment where guests seated at the wall can face each other and socialize.
Recent Projects
Desert Escape Without the Heat in San Luis Obispo, CA
Recent Articles
4 Reasons to Install an Irrigation System in Your Lawn

Many San Luis Obispo homeowners are looking for ways to make their lawn care and landscaping more convenient. Irrigation systems are a great way to make your lawn maintenance less laborious and time-consuming. If installing an irrigation system isn't appealing to you initially, consider the following benefits of sprinkler systems. Advantages of Installing a…

Read More

4 Tips for the Perfect Shell Beach Landscape

Shell Beach Landscapes can be a challenge. It's both an art and science. There's an element of creativity that suits your style and taste and helps to distinguish your home or business from all others. But it's also important to know which plants are favorable for your climate, when they'll grow, and how to properly…

Read More

If you are looking for a professional Retaining & Seating Wall Company in San Luis Obispo or the surrounding California area then contact Dan's Landscaping Company at 805-550-5488 or complete our online request form.