5 Low Water Plants to Incorporate in Your San Luis Obispo Landscaping Design
---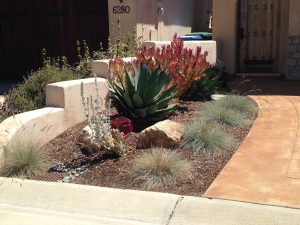 Here in San Luis Obispo, we are recovering from an intense drought. Throughout the drought, homeowners looked for ways to conserve water. Many homeowners chose to forego their lawn and landscaping maintenance to save water as the drought wore on. As a result, incorporating drought-resistant elements such as hardscaping and low water plants has become an increasingly popular option for homeowners looking to beautify their property. At Dan's Landscaping Company, we understand the importance of creating a long-lasting and durable landscaping design for your home. If you are looking for low-water plants to incorporate in your landscaping to help protect your landscaping from unpredictable water shortages, there are plenty of great options for our region. If you are interested in having any of these or other low water plants incorporated into your San Luis Obispo landscaping design, contact our polite, experienced professionals today to get started!
Blue Oat Grass
Helictotrichon Sempervirens, otherwise known as blue oat grass, is a silvery blue-green ornamental grass. It clumps nicely and adds beautiful texture and color to any garden or landscape. It works well as an accent or border plant, but can also be combined with other grasses or used alone for ground cover. Blue oat grass can be anywhere from 2 to 3 feet high, and the clumps can be just as wide. However, when it flowers in mid summer, the flower spikes can reach as high as 4 feet in the air! Because it thrives in full sun and is drought resistant, blue oat grass can make a fantastic choice to incorporate in your landscaping design.
Two-Row Stonecrop
Two-row stone crop, also known as Caucasian stonecrop or Sedum Spurium, is a low water succulent that thrives in full sun, perfect for drought-like conditions. Two-row stonecrop is a beautiful option that changes color throughout the seasons. However, different varieties of Sedum Spurium, such as Dragon's Blood or Voodoo, offer different color variations throughout the year. Whichever variety or varieties you choose to incorporate in your landscape, two-row stonecrop is sure to add plenty of color and texture. Because it grows quickly and stays relatively low to the ground, this plant makes a great and colorful choice for ground cover in your landscaping design.
Korean Mint
Korean mint has several other names, but is formally known as Agastache Rugosa. Reaching up to 5 feet high, fragrant Korean mint will attract butterflies, bees, and birds to your property. This perennial herb flowers throughout the summer, its blue-purple blooms adding a pop of color to your landscape. Best of all, this plant is an herb, useful for any adventurous cooks looking to prepare traditional Korean dishes. Korean mint is a low water plant that can thrive in the sun or with partial shade.
Cleveland Sage
Cleveland sage, or Salvia Clevelandii, is a flowering shrub native to Southern California. Drought resistant and striking, Cleveland sage has a powerful fragrance that some people love. Others are unable to tolerate the scent of Cleveland sage, so be sure to find out how your household tolerates it before choosing it for your home landscaping. Dramatic in appearance, Cleveland sage is a perennial that blooms purple flowers toward the end of spring and into the summer each year.
Yarrow
Otherwise known as Achillea Millefolium, yarrow is a hardy perennial available in several colors, including red, pink, yellow, and white. An aromatic herb, yarrow looks like a wildflower and can be a great addition to a cutting garden. It's small blooms will attract butterflies and add beauty to your property.
If you are planning to have your home professionally landscaped, and want to incorporate drought-tolerant elements that will endure even without regular watering or rain, these are a few of the many choices available with you. In addition to low water plants, hardscaping is another possible approach to constructing a beautiful, drought-resistant yard that will impress for years to come. Consult with the expert San Luis Obispo landscapers at Dan's Landscaping Company to start designing your landscape. With our help, you can transform your outdoor space into a durable, livable space for your household and guests to enjoy year round.